My Team
The Team
Successful surgery depends on the good work of a team of people both inside and outside the operating theatre. Without them no surgeon can get a great result. Some, like those in the sterilising department, you will never meet but be assured all are committed to your care.
Office Staff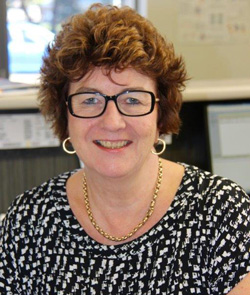 Debby Chambers - Personal Assistant
Debby has been personal assistant to Dr Caldwell for over 20yrs, first at Toronto and now here at Lingard Private.
She has unmatched experience in all stages of the operative journey including:
Making appointments
Planning admissions
Discussing fees
Dealing with insurers
Post-op care.
While Debby is there to answer most of your queries, some medical questions are best directed to Dr Caldwell, who is only too happy to discuss your concerns with you.
Dianna Dunn - Receptionist
Di has been assisting Dr Caldwell as typist and receptionist in the office for over 10yrs. She is similarly capable in helping with your questions and care.
Anaesthetists
Dr Caldwell and his anaesthetists have worked together for over 15 years. They have been carefully selected and are all experts at looking after patients having knee and hip surgery.
On some occasions, such as after hours or during holiday periods, other anaesthetists may help out.
Anaesthetists are not employed by their surgeon. Your anaesthetist will send a separate bill based on:
The surgical procedure
Your general health (ASA Score)
The complexity and
Length of the anaesthetic 
Dr Jason Hollard
Jason and my team have worked together every Monday for more than 15 years performing major knee and hip surgery. He is one of our most skilled and up-to-date anaesthetists and is currently on the Board of Examiners for Anaesthetics.
Dr Bob Wonders
Bob has been part of my Tuesday team for over 20 years. We have done many ACL and multi-ligament reconstructions together and he is an expert in day surgery and post-operative care.
Dr Jenny Forrester
Jenny has been one of my Tuesday anaesthetist for many years. She has extensive experience in anaesthesia for day surgery patients undergoing arthroscopic and reconstructive knee procedures.
Dr John Matheson
John is a senior Specialist anaesthetist with extensive experience in anaesthesia for hip and knee replacement. He does regular Wednesday and extra lists for me.
Recent Additions
Dr Andrew Hart and Dr Jonathon Rothwell are recent additions to the team covering Thursday lists at Lingard. They are both experienced and reliable anaesthetists.
Assistant Surgeons
Almost all operations require an assistant surgeon to help with the procedure. Over the years they become expert at the various procedures and are invaluable in the efficient and smooth progress of each case.
The assistant is not employed by Dr Caldwell and will send a separate Assistant Account. This fee is based on the length and complexity of the surgery and the Medical Benefits Schedule. It is usually 20% of the surgeon's fee.
Dr Glen Valaire
Glen has made a career of assisting in orthopaedic surgery and has been my regular Monday assistant for over 10 years. His relaxed personality fosters a pleasant working relationship and his extensive experience is helpful in difficult cases. He usually closes the cases for me.
Dr Ross Cairns
Ross has been my regular Tuesday assistant for knee ligament and patellofemoral reconstructions since I helped him through his Sports Medicine training. He is now our foremost local Sports Physician and keeps me up to date on the latest non-operative care.
Dr Fiona Pringle
Fiona is one of our local GPs with an interest in Indigenous health. She brings a lovely caring professionalism to the table which makes for a calm efficient operation. She always introduces herself and is always happy to answer any questions.
Dr Tom Kirsh
Tom has also made a career of orthopaedic assisting and brings a wealth of experience to the theatre. Always reliable he often helps out on emergency cases and extra lists.
Operating Room Staff
Tracy Leist
Calm and professional Tracy was born to be a scrub sister. She was an enrolled nurse when she joined the team at Toronto when scrub staff were hard to come by. Ten years later she is an indispensable member of our team.
Andrew Day
Andrew joined us as part of the Lingard staff. A quiet achiever, Andrew is our dependable hard worker.
Maddie Kiddle
Being a scrub sister is a really specialised calling. Our newest recruit, Maddie, has taking to it like a duck to water. Trained by me and my team she is now in demand around the operating suites.
Rebecca Pearce
Rebecca has been a long term member of the Lingard staff and brings a wealth of experience to the operating room.